Moville, Inishowen, Co. Donegal
Take a break to Moville, a seaside town on the Inishowen Peninsula in Beautiful Donegal. Nestled on the shores of Lough Foyle on the Wild Atlantic Way, the charming town of Moville welcomes visitors year round with things to do for all the family!
Take a look at our helpful guide below. From adventurers, kayakers, walkers or foodies, this charming seaside town has much to offer everyone!
~ Do ~
Experience some of the best kayaking in Donegal with Inish Adventures. With plenty of activities to choose from including SUP, Kayaking, Canoeing, Gorge Walking and Land activities including Archery & Orienteering. Inish Adventures also run the annual Inishowen Sea Symposium event.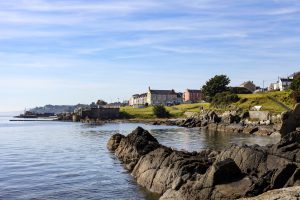 ---
 MOVILLE GREEN
The Green provides a large recreational area where guests can enjoy a variety of activities, the perfect setting for a family day out with a play park for the kids and plenty of space for picnics surrounded by spectacular views and seaside walks.
---
On the outskirts of Moville Town, visitors will find Cooley Equestrian Centre, who offer an array of equine activities for all the family including Hacking, Holiday Rides & Pony camps over the Easter & Summer periods offering kids a fun filled day.
---
 WALKING
Moville Shore Walk is one of Moville's most popular attractions. Offering excellent coastal views, the route passes beaches, elegant shore-front dwellings and sites of historic interest. This 4km walk will lead you to the neighbouring fishing village of Greencastle where you can grab a coffee or a light lunch at one of the eateries and even hop on the 15 minute ferry to Magilligan Point in Northern Ireland.
---
 PIER FISHING
Moville is home to two piers, Carrickarory (The Upper Pier) and Moville pier. They are the ideal location for pier fishing.
In the second half of the 19th century, Moville was a point of embarkation for travellers, especially emigrants, to Canada and the USA. Steamships of the Anchor Line of Glasgow and others en route from Glasgow to New York City called at Moville to pick up additional passengers. Today, the town receives little maritime traffic, but retains a small fishing harbour. The commercial fishing port at Greencastle lies a few miles away.
---
Moville Pottery make pottery on site and sell it all over the world. Visitors can colour their own pottery and collect in a day or 2, or have them posted by the pottery to your home. products are hand crafted to the highest quality with a large selection of pottery and other gifts.
Watch the potters at work or Paint your own piece (Booking advisable) and have it glazed and fired! A Fantastic family activity.
---
.
~ HISTORIC SITES ~
A designated 'Heritage Town', Moville was largely built in 1780 However, ancient sites reside here from before this time. The name Moville has two possible Gaelic origins, translated from Bun an Phobail, meaning 'Foot of the Parish' or Magh Bhile, meaning 'Plain of the Ancient Tree'.
On the outskirts of Moville Town you will find Cooley Cross, the site of a monastery founded by St. Finian. The site is situated on a steep hill with picturesque views of the town of Moville and Lough Foyle. One of the most interesting buildings to be seen here is the "Skull House", a small stone structure with a stone roof closely modelled on the beehive huts of early monks.
The foundation was originally made by St Patrick who also built a bridge across the river near the monastery and is said to be the Oldest Bridge in Ireland. 
---
Located on the grounds of Moville Boutique Hostel.
Legend has it that this bridge was built by St. Patrick, who at the time was visiting the local monastery of Cooley. Crossing the river with the monks, with local saint, St Finian, St. Patrick stood on what he thought to be a silver stone and fell into the river, only to discover that this was no stone but a salmon that had caused him to fall. St. Patrick ordered a bridge to be built and cursed the salmon from the River Bredagh.
---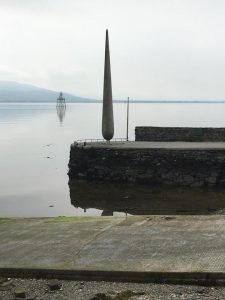 MOVILLE PIER
Moville's location made it ideal for the maritime industry, and throughout the 19th century, large trading ships and transatlantic liners dropped anchor here. In the later years of the 1800s, Moville was a major port for embarkation for many travelers, including emigrants to Canada and America.
Inishowen's emigration monument – The 'Fid' was designed by well-known artist Locky Morrisoville & erected on Moville's historic old stone pier. The monument represents Moville's maritime history and the legacy which emigration has left on this town and community.
Fun Fact: Mr. & Mrs. John McDermott, who emigrated to the USA in 1860,  bought a farm in Woodbury County, Iowa. The farm was a station stop and in 1868, Mr. McDermott succeeded in having a post office established, he was then given the privelege of naming it. He named it after his birthplace – Moville. The town of Moville, Iowa, USA was then encorporated in 1887.
---
.
~ FOODIES ~
After a busy day exploring all Moville has to offer, you can head out to dinner at one of the many eateries in the town. We have listed our favourite spots below:
 ROSATO'S BAR & RESTAURANT
A cosy bar & restaurant with 2 open fires, great atmosphere and friendly staff in a family friendly environment. This place offers great food and live music at weekends.
---
 THE FOYLE HOTEL WINE BAR & EATERY
The Foyle Hostel by Chef Brian Mc Dermott, respected food author cooks tasty food based on traditional recipes & local Donegal produce.  Exquisite food from the freshest ingredients and beautifully presented. With a cosy atmosphere and great bar, it's no wonder this eatery has won many outstanding awards.
---
A casual dining Wine Bar & Bistro with a selection of fresh local produce at affordable prices. Mid-week promotions and weekend specials are available in this charming eatery. They even have a private room for group dinner parties, perfect for birthdays and family get together's.
For more casual dining options, why not try some of Moville's Cafes & Takeaways, The Cosy Cottage offers a range on the menu to suit all the family with daily specials also available. Barron's Cafe offer great food with a wide range of meals on offer including their famous all day breakfast, daily lunch specials and evening dinner.
If you don't fancy eating in anywhere, you can order out from a selection of fast food takeouts in the town including a highly praised Chinese Takeaway – The Willow Tree (food here is great). As is the Indian Takeaway, their freshly made naan bread is delicious! Other takeaways include Apache Pizza, Big Bites Fish & Chips, and Biddy's Cafe & Takeaway whose home made chicken goujons are amazing!
---
.
~ COFFEE CONNOISSEURS & SWEET TREAT LOVERS ~
 Moville is home to a number of lovely coffee shops including, Olivia's Coffee Shop, found on upper main street, which is the perfect stop after a walk over Moville Green with a great selection of light bites and sweet treats.
 Norrie's Coffee shops freshly baked goods will have you drooling at their counter top displays.
.
---
.
~ NIGHT LIFE ~
After a great day exploring Moville you may still have the energy to experience the night life of the town. Many of the 10 pubs in town have live music on at weekends, usually starting from 10PM.
 Rosato's Bar & Restaurant is a popular place on Saturday nights with live music and most Friday's they have a pub quiz. Rawdon's Pub have live music on Friday nights and Annie's Bar have a good cocktail selection with live music on weekends.
  The Trawler-man Bar on James Street is another popular place on weekends, with music throughout the weekend including a 'Sunday Jam'. The Corner Bar, recently under new management is another popular spot with locals and Susie's Bar on upper main street is said to have the nicest Guinness in the County.
---
.
~ FESTIVALS ~
Moville is host to many festivals throughout the year. See the dates below of our most popular ones:
 March 17th welcomes the St.Patricks Day Festival where visitors fill.the streets and live music is performed in the market square as well as the pubs.
---
April 26th to 28th hosts the Inish Adventures Sea Symposium, a 2-day event for all levels of sea kayakers. Based in Moville, the Sea Symposium is open to all abilities and has been attracting participants from all over Ireland, the UK and Europe for a dynamic programme of training, demonstrations, tours and leisure events focused around the Inishowen coastline.
---
May 16th to 19th – Donegal Fleadh –  A full weekend of song, dance and music on the shores of Lough Foyle.
May 17th to 19th – Rocks N Rollin Ultra Marathon – A stunning mixed terrain challenge of road, trail and beach along Irelands rugged Northern Coast and Wild Atlantic Way.
---
June 7th to 9th welcomes the Inishowen Vintage Show, a weekend event with music on the Friday & Saturday nights followed by the Vintage show on the Sunday starting from 10.30am, a great family day out with tractor pulling competitions, funfair and market stalls.
---
 August 2nd to 5th – Moville Festival a summer celebration of Folk and Country music and local produce taking place on the banks of the Foyle.
August 9th to 11th – Greencastle Regatta (our neighbouring village)  Is one of the longest running Maritime Festivals in Ireland and has activities for all ages on the shore and on the water, plus live music each evening.
August 15th to 18th – Extreme North Quadrathon Festival. This is not just another running event, it's more personal than that, the concept of this event is experiencing camaraderie, lasting friendships, amazing scenery and unequaled hospitality during this iconic 4 day running festival.
August 22nd to 26th – Bob Dylan Festival. This intimate festival welcomes tribute musicians to the town of Moville who perform in the local pubs and cafes.The venues will put on music on the Friday, Saturday and Sunday afternoons & evenings.
---
~ BOOK NOW ~
Book your Moville getaway at WWW.MOVILLEBOUTIQUEHOSTEL.COM
Have any Questions?
Email: enquiries@movilleboutiquehostel.com
Call the Moville Boutique Hostel Team on: +353838438002
We look forward to welcoming you to Beautiful Moville.
*photo credits to Ireland.com & Moville Boutique Hostel